COMPLEX: Jalen Rose Predicts Warriors in 6, Steph Curry Finals MVP
May 31, 2017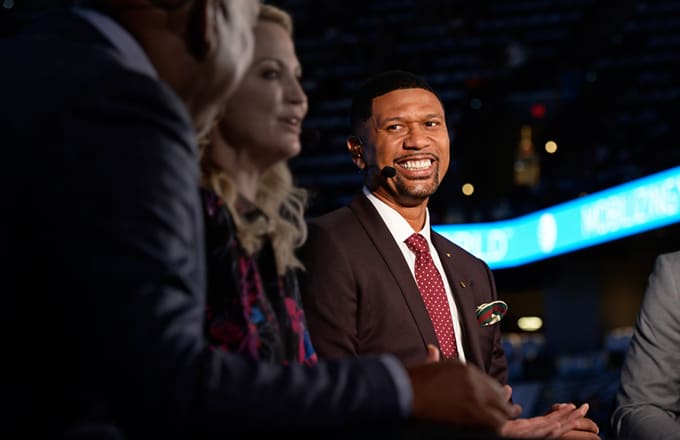 BY JASON FITTER
May 31, 2017 — Jalen Rose knows a thing or two about basketball. As a player and commentator, the Fab Five icon has been involved in the NBA for 20-plus years.
In his eyes, we are on the brink of the most historic NBA Finals series of all time. Jalen, after some prodding, picked the Warriors in 6, with Steph Curry winning MVP honors. He also predicted that this will be the most watched Finals in NBA history, which given the storylines, makes a lot of sense.
For as bad as these playoffs have been we are owed a Finals for the ages. How fitting would it be for Mike Brown to coach the Warriors to victory over the team that fired him, twice? Is LeBron's legacy any different if he ends this series with a 3-5 record in the NBA Finals? Would it be the biggest disappointment in NBA history if former MVP Kevin Durant joined a 73-win team and didn't win a ring?
Jalen and the NBA Countdown crew will be on the road for the entire series, which airs exclusively on ABC. Complex had the chance to chop it up with the NBA legend before the series kicked off and pick his basketball-centric brain.
(This interview has been edited and condensed for clarity.)
Who would you consider to be the best player on the court when the ball tips off for game one of the finals?
That has to be the individual who just surpassed Michael Jordan in total playoff points. The King, LeBron James.
That's a fair answer. Do you think seeing the same teams in the NBA finals three years in a row is good for the NBA?
Absolutely, I think it's terrific for the NBA, because, and I'm already anticipating, this is how good it's going to be for the NBA—anytime you have seven current All-Stars in the same NBA Finals, you have three players that have recently won MVP, Steph Curry, the only unanimous MVP, did it twice, LeBron has won four total, and KD obviously, I anticipate that this is going to be the most watched NBA Finals in the history of the NBA.
Now, they're not sure if Steve Kerr is going to coach the Warriors. Who do you think will be the X factor in this series?
First and foremost, I'm going to make sure I try to say this as many times as possible this NBA Finals: I hate that Steve Kerr can't coach his basketball team.
I have a tremendous amount of respect for him, yes as a player, and yes as a coach, but just as a quality man, and I just appreciate him. I appreciate him being worldly, and not afraid to express himself and just understanding the things that he's had to overcome personally, and now professionally, I'm really just rooting for him, I'm a major fan of his.
I'M SAYING THE GOLDEN STATE WARRIORS IN SIX, AND STEPH CURRY IS THE MVP.
We're all wishing him well, and hopefully he is able to coach. But wouldn't it be something if Mike Brown won a championship against his old team?
How about that? Here you have Mike Brown, who's coached and been fired by the Cavs twice, who's still being paid by them, and if I'm not mistaken, possibly by the Lakers also.
Yep, I think he's getting three checks—that's wild.
[Laughs] Right, okay, now you get a chance to coach the Golden State Warriors in the NBA Finals, versus not only the Cavs, but LeBron James, who you helped nurture as a player and took to his first NBA Finals, now he's playing in his seventh consecutive.
Do you think there's more pressure on Steph to perform after last year's poor performance or Kevin Durant because he signed for this series?
If you had to do the pressure meter based on the NBA Finals, I think number one would have to be Kevin Durant, because unlike the other six All-Stars in this final, he doesn't have a championship.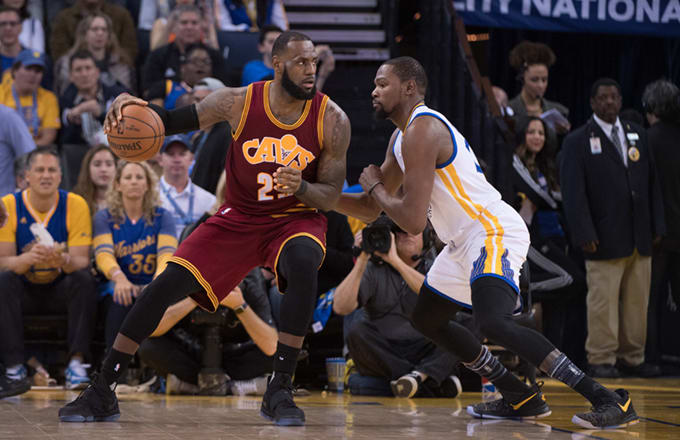 I've been saying all playoffs that LeBron is going to miss a huge free throw down the stretch; do you expect to see "hack-a-LeBron" in the Finals?
Yes, I've talked about this for the last couple of years actually, you know, when you're going against greatness you have to play the percentages, and all individuals have strengths and weaknesses, and one of his is clearly free-throw shooting, so it will be interesting to see if the Golden State Warriors not only try that strategy but do it late in a game when it's a one-possession game with 40 seconds to go and then just foul him then. And then they control a two-for-one situation late.
Yeah, exactly. It's an interesting tactic I think we may see. So now I have to ask, who do you have winning the series?
Oooooh! My prediction, huh? Who do I have winning this series? I'm picking the Golden State Warriors in six.
I got Golden State in seven. And with that, who do you think is going to be the MVP?
I'm saying the Golden State Warriors in six, and Steph Curry is the MVP. I truly think because he came along almost like a hurricane over the last couple of years, he was kind of under the radar with Durant this year. Now I think being back on this big stage, especially after Kyrie Irving had his way with him last year, that Steph Curry is going to find a way to be magnificent in this series and win it.
In a game of two on two, you got LeBron and Kyrie vs. Steph and Durant to 21, who are you taking?
That's a great one. In two on two, no restrictions with dribbles and stuff like that? Like no three dribbles or anything like that?
No restrictions, ones and twos to 21.
Gotta go with all-around shooting and efficiency, so I'm going with Steph and KD.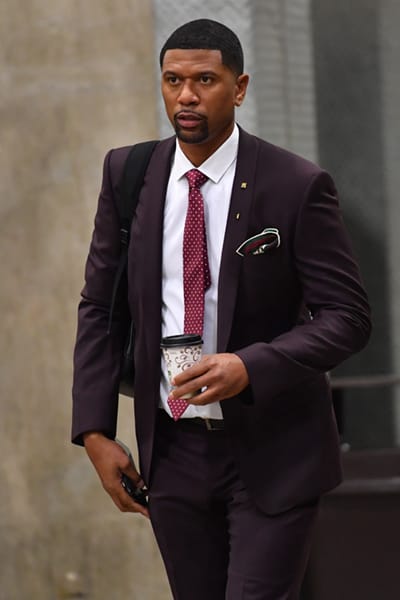 Wow, I like it. Now, what's one thing that would surprise the everyday viewer about being an on-air analyst?
How much time, energy and preparation truly goes into your craft. A lot of times when you see someone do something, whether it's sports or multimedia or whatever their profession is, you think it just starts when you see them; you don't realize all of the sweat equity that goes into it. … I'm fortunate to do something that I love and I just so happen to follow sports, and would be following it anyway, so to be able to do it on this platform is terrific, and so I'm really fortunate to have this opportunity, and the ability to not only study your craft, but to continue to improve and evolve.
I've been a Knicks fan my whole life, so I've seen you go from a player to an analyst, and you've done an amazing job.
Thank you, and this will be—wow, you making me think—I played in the 2000 Finals, got traded to the Bulls in 2002, I reached out to BET Maad Sports and asked them if I could cover the Lakers vs. Nets, and so this will be my 15th straight year covering the NBA Finals for television.
Wow…
Yes, for television. BET Maad Sports, Best Damn Sports Show Period, remember being on ABC with Snapper and Bill Walton, TNT doing sideline and doing studio.
Is there any one specific moment that stands out to you over the last 15 years? Or a Finals moment that sticks out?
One of my favorite Finals was actually Detroit vs. Los Angeles, because it was home and home for me, personally. It was like my childhood home and my second home.
That was the year Karl Malone and Gary Payton were on the team, right?
Correct, and to be able to cover that, interview Stevie Wonder, and Denzel Washington—nobody gets to talk to Denzel, am I the only person to ever talk to Denzel at a game?
I think so, I don't think he's talks to anybody at games.
[Laughs] Right. I interviewed Jack at a game. I would bet I'm the only person that probably interviewed Jack and Denzel at a basketball game.
I bet you are right. So we got the NBA draft coming up on June 22, who are you taking number one? Who do you like?
It's going to be interesting for the Celtics, because I think the answer to that question is really going to be determined on what they decide they want their future to be. On paper, it looks like they're going to take [Markelle] Fultz.
IF I'M THE CELTICS…I WOULD DRAFT A TALL POINT GUARD THAT CAN MAKE GUYS AROUND HIM BETTER, AN IMPROVED SHOOTER, IN LONZO BALL, TO GO WITH ISAIAH AND BRADLEY.
What do you think they need to get over this LeBron hump? Or do they wait till he's retired and start with their young core?
I've heard a lot of theories being tossed around about what to do with Isaiah Thomas and their roster. I find a way to keep Isaiah Thomas and Avery Bradley together, I think Avery Bradley is so underrated.
So underrated, I think he's going to be an All-Star soon. If Fultz goes one, do you think Magic and the Lakers take Ball two?
Absolutely yes. If I'm the Celtics, and I'm drafting for my current roster, which I know they are not, so this is a major hypothetical, just to have three different looks in the backcourt, I would draft a tall point guard that can make guys around him better, an improved shooter, in Lonzo Ball, to go with Isaiah and Bradley. But if he falls to the Lakers, they're going to take him.
Now, listen, you have a brilliant basketball mind, you've been in the game for 20-plus years, would you ever consider being a GM or a coach of a team?
I would. It's interesting that you would bring that up because being in and around the game so much, you get a chance to fancy and also craft how you would operate, and/or wonder if the strategies that you employ or you put out in your mind or in your heart are things that you can actually execute. That challenge would be something I'd welcome.
Full article: http://www.complex.com/sports/2017/05/jalen-rose-predicts-warriors-in-6-steph-curry-mvp